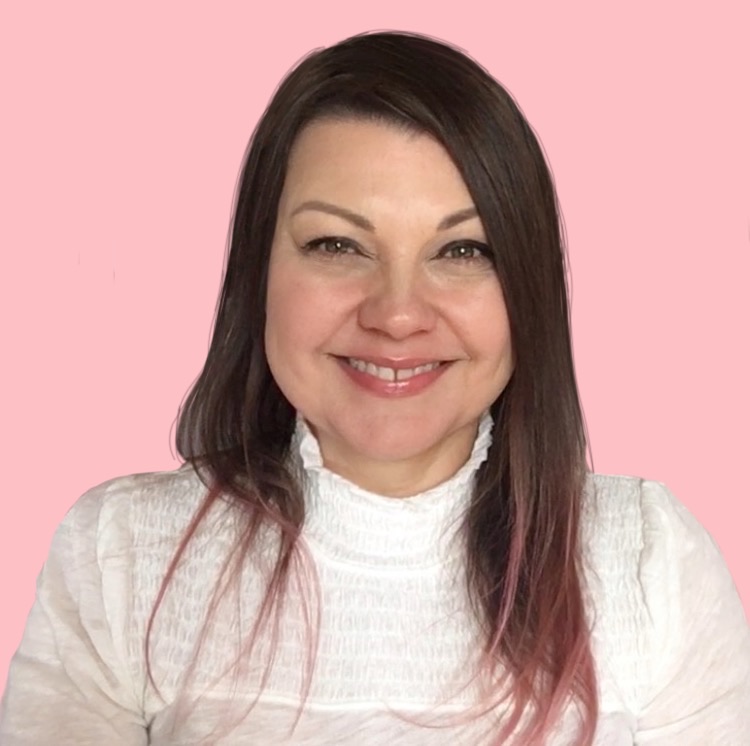 When I look back at my career, I want to know that everything was cultivated with passion, authenticity, and whimsy. I've spent the last 20+ years immersed in the most adventurous art career.  I never imagined where my creativity would take me and each step in my journey has taught me something invaluable.  Here's a little about me 🙂
After earning an illustration from Art Center College of Design in Pasadena, Melanie has the cool factor of spending 8 years working as Technical Director on the iconic South Park Feature Film and then TV show.  During that same time she fell in love with Street Painting. It snowballed, and she was soon being invited to paint in events around the world.  During her 20 years as a freelance street painter and muralist, she was awarded Gold medals and 1st place awards in Europe's most prestigious competitions, including the title of Maestra Madonnara (Master Street Painter) in both Italy and Germany.
In 2012, Melanie and her husband founded 
We Talk Chalk
  a 3D street painting company in Los Angeles.  Since its inception, her and her team have created over 900 paintings throughout the world and are now based in Las Vegas where they work with local entertainment venues and conventions.   A few of We Talk Chalk's specialties include 3D trick-eye paintings, murals, and space transformations.  Melanie has created 30 murals in the Northern Neck of Virginia as part of a State wide Small Town Revitalization Program
If that wasn't enough to keep her busy, Melanie is represented by Suzanne Cruise Creative Services, Inc. for her wonderful illustration and surface pattern design work.  So, if she isn't up on a scaffold or boom lift, paint brush in hand, you can usually find her studio (her very happy place) painting at her easel, illustrating on her iPad, or in illustrator creating a new pattern collection.
With all of her experience as a creative entrepreneur, Melanie has been teaching for over 20 years and loves helping other artists reach their goals.  With Peer groups, Mentorships and online courses, Melanie true passion is in sharing what she has learned and instilling good practices, strategy, and positivity into the artists she works with.
"I believe you can create what you love, spread positivity, and inspire beauty in the world.   And…if you're anything like me, you enjoy spending your free time in a beautiful space full of inspiration that is authentically you.  I love the idea of helping others create their 'happy place' and helping artists cultivate a 'truly inspiring career' by helping them reach their goals."
2020 The Devil's in the Details/ City of the World Gallery / Las Vegas, NV
2016 International Artwork  / Bogota, Colombia
2012 International Street Painting Exhibition / Ramat H'asharon, Israel
2011 Naughty Baby / The Happening Gallery / Marina Del Rey, CA
2011 Los Angeles / The Building Green Show / Los Angeles, CA
2010 Rebecca Molayam Gallery / Los Angleles, CA
2009 PAWS/LA Silent Auction / Deborah Martin Gallery, Los Angeles, CA
2008 Downtown Art Walk / Spring Arts Collective / Los Angeles, CA
2008 One Night Only / Brewery Art Complex / Los Angeles, CA
2007 Group Show / AC Lounge / Santa Monica, CA
2007 Multiple Personalities / Melrose Lightspace / Hollywood, CA 
2007 Boas, Dusters, and Other Household Seductions / West Gallery / Ca State Fullerton
2006 Variant / The 57 Underground / Pomona, CA
2006 Figure3 / Irvine Valley College
2004 Gallery di Madonnari / Madonnari Festival / San Rafael, CA
2004 Image/Identity (A Collaborative Show of Visual Artists and Writers) / Cal State Fullerton
2003 West Gallery Group Show / Curated by Tyler Stallings / Cal State Fullerton 
2002 South Park/Comedy Central Fine Art Exhibition / Quixote Studios, West Hollywood, CA
2000 / 2001 / 2002 Bella Via Art Exhibit / Valencia, CA
2021 Top 10 Finalist 'Made in Las Vegas'  Competition, Park West Gallery, Caesar's Palace.
2018 1st Place, 411 Chalk Art Competition, Las Vegas, Nevada
2010 Gold Medal, Incontro Nazionale Madonnari, Grazie di Curtatone, Italy
2010 1st Place, Dutch Open Championship, Valkenburg, Holland
2010 3rd Place, Peoples Choice Award, Valkenburg, Holland
2008 3rd Place, Dutch Open Championship, Valkenburg, Holland
2008 Peoples Choice Award, Les Craies d'Azur, Nice, France
2006 Bronze Medal, Madonnari Festival, Grazie di Curtatone, Italy
2004 1st Place, Strassenmaler Competition, Geldern, Germany
2003 1st Place, Strassenmaler Competition, Geldern, Germany
2003 Gold Medal, Madonnari Festival, Grazie di Curtatone, Italy
2002 Gold Medal, Madonnari Festival, Grazie di Curtatone, Italy