I love being a free lance artist, working from home, on my own schedule, but…
Without feedback, constructive criticism, and a good sounding board, it's easy to lose motivation and feel as though you're in a bubble, cut off from the outside world. Can you relate?
Maybe you have those big creative dreams but aren't sure you have what it takes to reach them.  Maybe you're just starting or have been at this a while and feel like you aren't getting anywhere.
Trust me, I've been there.  Maybe you'd like someone who's had a lifetime of creative experience and trouble shooting to offer some great feedback and guidance?  I'd love to review your portfolio and offer that help. I've spent time in several creative industries and have run my own creative company for years.
My Specialties? Illustration, Surface Design, Fine Art, Murals, & Large Scale Work.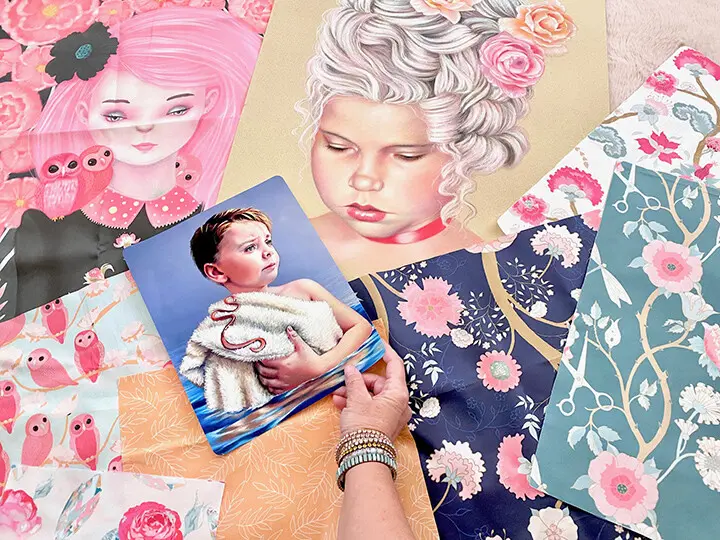 Portfolio reviews are 60 minute live zoom calls where we walk through your portfolio together and create an action list.
The fee is $150 per session, paid via PayPal prior to call.
If you do not have a portfolio link, you can include your website, or instagram link.  You also have the option to email me jpegs of 10 -15 of your best works at low res to Melanie@melaniestimmell.com
A few of the things we'll cover during your review
STYLE – How to create the style that is uniquely you.
STRENGTHS & WEEKNESSES –  What's working well and what to work on.
PRESENTATION – How to present a portfolio to your ideal client in the best possible way.
NEW WORK – Thoughts on creating new work to round out your portfolio.
STRATEGY – Next steps in achieving your goals.